F911®
F911® is an open-top secondary containment system for UL 142 single-wall aboveground storage tanks.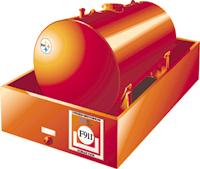 Key Features:
Open-top dike provides economical secondary containment and allows for easy monitoring.
Dike meets UL 142 requirements.
Horizontal or vertical tanks may be specified.
UL 142 steel tanks and diking are compatible with a wide range of fuels and chemicals.
Customized compartments can be provided for cost-effective multi-product storage.
Tank unit can be easily relocated. Capacities range from 300 to 20,000 gallons.